Special coke production technology
Short description:
Technology for production of metallurgical coke of special purpose from forge coal Kazakhstan is developed.
Special coke is a solid carbonaceous deoxidant for electro-metallurgical productions and has particle size 5-25 mm with ash content not exceeding 10%, has a developed pore structure formed as large pores with size of 150-300 micron and smaller - 0,5-1,0 micron.
Characteristics of the special coke (high reactivity and electrical resistivity, low content of harmful impurities (sulfur and phosphorus)) provides:
increasing productivity of electric furnaces for the smelting of ferrosilicon to 25,0%,
reducing specific energy consumption during the smelting ferrosilicon by 6,0%, high-carbon ferrochrome - 2,6%,
increase the degree of extraction of silicon by 3,5%, chromium - 6-8%,
bring the quality of ferroalloys in the residual content of sulfur and phosphorus to the level of world standards.
The economic efficiency of the special coke production due to the low specific capital costs and low-cost of open-pit mining forge coals.
Level of readiness:
Technology is implemented into production. There are planned the construction of several factories in Kazakhstan.
Availability of patents:
Production technology of special coke from forge coals of Kazakhstan is protected by several patents and provisional patents of RK.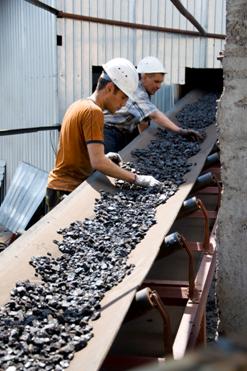 Pilot set to obtain a special coke
Partners:
JSC «TNK «Kazchrom»;
LLC «Silicium Kazakhstan».
Contacts:
RSE «NC CPMRM RK»
050036, Almaty, 67, Zhandosov str.
Tel.: (727) 2590070
Fax: (727) 2590075
E-mail: This e-mail address is being protected from spambots. You need JavaScript enabled to view it