Waste utilization technology of chrysotile-asbestos production by sulfuric acid method with obtaining commercial magnesium products in the form of sulphate, oxide and metal
Short description:
Asbestos plant of JSC «Kostanayskie mineraly» produces annually up to 5 million tons of chrysotile-asbestos, of which ≈ 8% is extracted in the commodity fiber, the rest is sent to dumps. These man-made waste contains up to 1 million tons magnesium at an average grade of 36-39% MgO (21­-23% Mg).
National Center on Complex Processing of Mineral Resources of Kazakhstan develops and offers technology for industrial development, providing sulfuric acid leaching of chrysotile-asbestos waste with extracting into solution of 75-80% magnesium in the form of sulfate. Cleaning solution from the impurities of iron, nickel, cobalt and chromium is carried out by concrete-chemical methods.
Solutions of magnesium sulfate is evaporated, and depending on the degree of purification, by crystallization process obtained the MgSO4∙7H2O of mark «ch», or technical, which is subjected to dehydration and decomposition, emitting water vapor and sulfur dioxide (SO2). The latter is directed to the contacting apparatus for the production of sulfuric acid with subsequent use in the leaching at the head of process simultaneously water vapor and condensate.
From technically pure magnesium oxide MgO with use of metallothermic restoring we obtain metallic magnesium in pigs.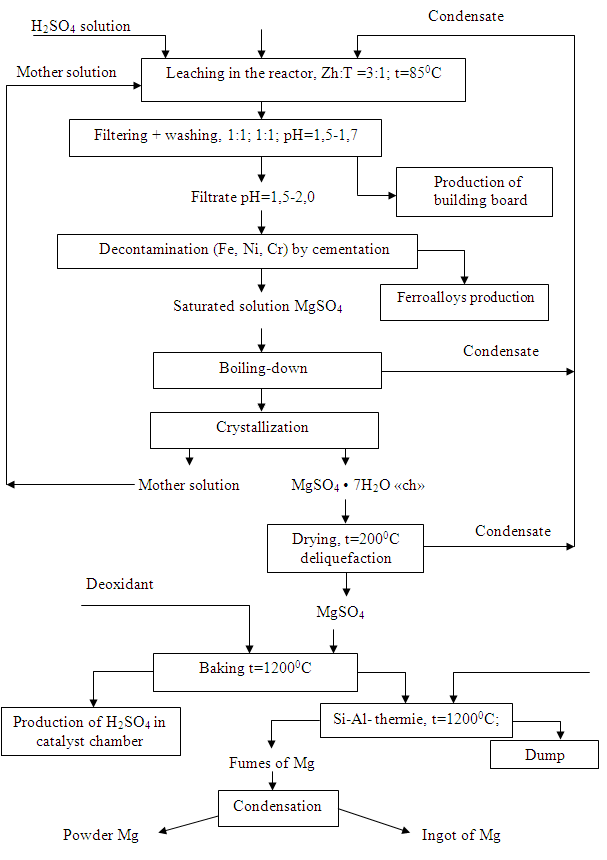 Process scheme of production of magnesium and its compounds from the waste of chrysotile-asbestos
Level of readiness:
The technology worked on in laboratory level, currently it being prepared for the semi-industrial tests of hydrometallurgical conversion at the pilot plant of RSE «NC CPMRM RK».
Availability of patents:
For all process operations defined novelty of technical solutions, and is processing applications for the invention.
Partners:
JSC «Kostanayskie mineraly».
Contacts:
RSE «NC CPMRM RK»
050036, Almaty, 67, Zhandosov str.
Tel.: (727) 2590070, ad. 143
Fax: (727) 2590075
E-mail: This e-mail address is being protected from spambots. You need JavaScript enabled to view it