Technology for complex processing of the leaded slimes, cakes, dusts
Short description:
The technology for processing of the leaded slimes, cakes, dusts with the selective separation of rhenium and osmium in single stage during the reduction smelting is developed. The proposed technology provides of:
polyselection of metals;
high degree of extraction of Os (97-99%) and Re (97-98%) in the melting products - lead alloy and sodium sulphate slag, respectively.
Method of extraction of osmium from the lead alloy with obtaining of the concentrate that containing 55-67% metallic osmium is developed.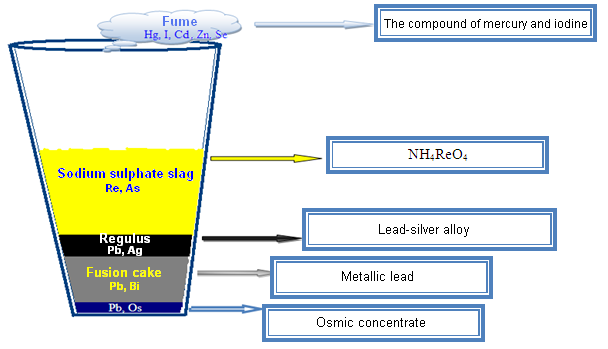 Distribution of the lead slime/cakes components by phases in the process of reduction smelting and derived products
Level of readiness:
Process procedure is developed and being created innovative production of processing of lead slime, cakes, dusts.
Availability of patents:
Technology protected by patents of RK.
Contacts:
RSE «NC CPMRM RK»
050036, Almaty, 67, Zhandosov str.
Tel.: (727) 2590070, доб. 145
Fax.: (727) 2590075
E-mail: This e-mail address is being protected from spambots. You need JavaScript enabled to view it