Technology for processing of the gold-arsenic concentrates
Short description:
Preliminary method of the resistant and extremely resistant gold-arsenic concentrates preparation is developed, it allows to obtain the product suitable for further processing both the conventional hydrochemical methods of the gold extracting and at the pyrometallurgical treatment as a fluxing agent in the content of carbon and silicate components in the production of copper or lead.
The main advantages of this technology include:
deep break-down of material with rundown of arsenic in the 96-98% as sulfides;
full utilization of sulfur dioxide;
availability of low-velocity gas stream and as a consequence of the absence of dust, which prevents the loss of gold;
simplicity of instrumentation and significant energy savings through the use of exothermic reactions of burning of sulfides in the bottom of the shaft furnace.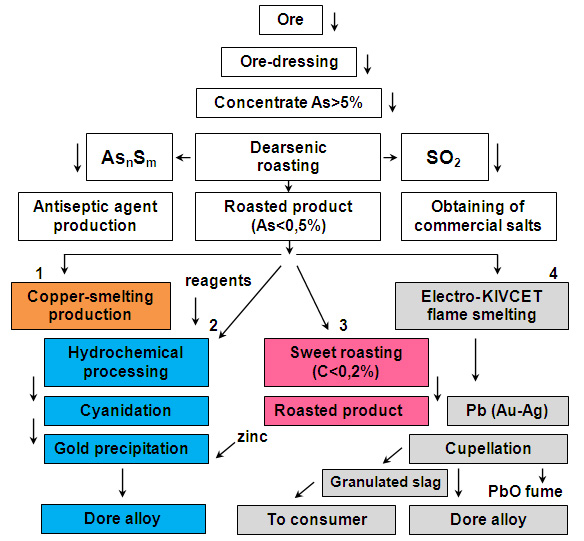 Flow diagram of the gold-arsenic concentrates processing
Level of readiness:
Process procedures are available at the instrumentation and roasting operations.
Process procedures are available at the instrumentation and roasting operations. Technology of the oxidating-sulphide burning implemented at the «Yakutzoloto» association, enterprises of China and tested in experimental-industrial level at the Bakyrchik GMK.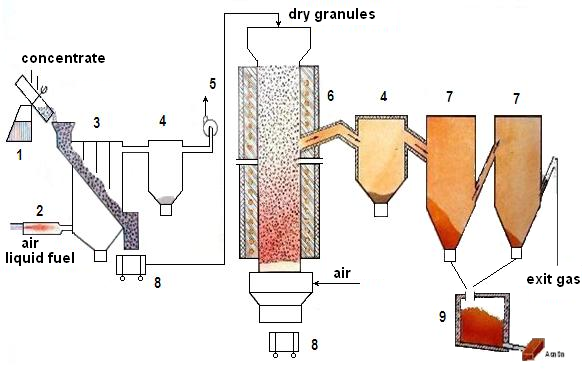 1 – granulating machine; 2 – furnace for burning liquid fuel; 3 - dry-off oven; 4 – dust chamber; 5 – ventilator; 6 - roaster furnace; 7 – condensator; 8 – trough-type unloader, 9 – oven to melt the arsenic sulfide.
Technology of extracting of arsenic by oxidating-sulphide roasting from arsenic-pyritic raw materials
Availability of patents:
Technology protected by patents of RK.
Partners:
LLC «Kazakhmys» Corporation»;
«Kazzinc» Company.
Contacts:
SSE « Zh. Abishev ChMI» RSE «NC CPMRM RK»
Karaganda, 63, Ermekov str.
Tel.: (7212) 43-31-64
Fax: (7212) 43-31-61
E-mail: This e-mail address is being protected from spambots. You need JavaScript enabled to view it