Development of technology for the smelting of new complex aluminum-chromium-silicon alloy (AChS)
Short description:
The proposed flow diagram is simple and allows considered poor chrome ore not only as an integrated metallurgical raw materials, but also use as a reducer of the high-in-ash low-phosphorus coals. The process of smelting AChS complex alloy is a single-stage and uncindery. Process for obtaining of the AChS is the full restoration of oxide ore and mineral part of coal. This method of melting contributes to the high use of components of the furnace-charge and the use of low-grade ore and coal enables us to obtain an alloy with low-cost, and to enhance the quality of the alloy by stabilizing the process and increase furnace productivity due to the high resistivity of used coal, providing a deep landing electrode in the melting furnace. Coal ash is composed mainly of silica and alumina, recovering together with oxides of the ore, is an additional source of silicon and aluminum in the alloy.
Technology under development, with an undeniable practical interest, will allow for a broad introduction into production to solve several problems simultaneously:
expanding resource base will require participation in the mining industry workforce;
use of substandard chrome ore will have a positive effect on the environment by reducing waste dumps at the mine;
involvement in the metallurgical treatment of the high-ash coals will reduce the export of coke from the border states.
AHS alloy can be used in ferroalloy industry as reducing oxides of chromium ore in obtaining refined ferrochrome, as well as in the steel industry. Application AHS alloy for deoxidation and alloying of steel will reduce, and in some cases completely eliminate the use of recycled aluminum and other deoxidizing additions to the ladle.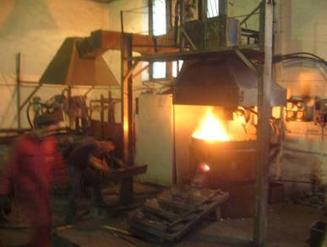 Carrying out large-scale laboratory tests on the AChS alloy smelting in the ore-thermal furnace of 200 kW at the ChMI
Level of readiness:
Based on theoretical studies there was carried out laboratory experiments on the melting of AHS in the Tammann high-temperature tube-type furnace. The results of laboratory tests as the basis for large-scale laboratory studies of melting of the alloy in the complex ore-thermal furnace with transformer capacity of 200 kW. Received positive results can be tested in an industrial conditions and then the implement into production.
Partners:
Ferroalloy plants of Kazakhstan.
Contacts:
SSE «Zh. Abishev ChMI» RSE «NC CPMRM RK»
Karaganda, 63, Ermekov str.
Tel.: (7212) 43-31-64
Fax: (7212) 43-31-61
E-mail: This e-mail address is being protected from spambots. You need JavaScript enabled to view it