KIVCET-technology for processing of the various plumbiferous raw materials



Short description:
KTVCET-technology for processing of plumbiferous raw materials is based on a combination of roast smelting furnace-charge processes in a spray state with oxygen, the reduction of the oxide melt in the layer of carbon material and the standing of the depleted liquid-alloy in the furnace, continuously carried out at the single set of original design. The furnace-charge is fir burned off and melted in an oxygen atmosphere and the resulting oxide melt is subjected to carbon-thermal reduction with a high extraction of: lead and precious metals - to black lead, copper - to regulus, zinc - to fume or sullage, sulphur - to combination gas.
KIVCET-technology allows processing of both sulphide copper-zinc and zinc-lead raw materials and materials of complex composition: lead-silver and lead-copper-zinc concentrates and oxidized materials.
Level of readiness:
Under licensing agreements 5 KIVCET-complexes built in Kazakhstan and abroad, construction of a new lead plant for KTVCET-technology of the company «Jiangxi Copper Corporation» and modernization of the lead plant of the company «Zhuzhou Smelter Company» in China is completed.
| | |
| --- | --- |
| | |
| Lead plant Portovesme S.r.l, (Italy) | Lead plant Teck Cominco ltd. (Canada) |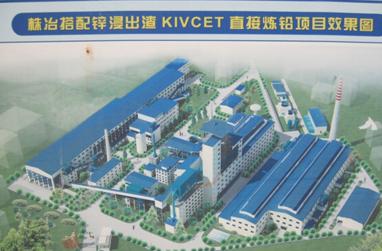 Model of the KIVCET-plant under construction Zhuzhou Smelter Company (China)
Availability of patents:
At the KIVCET-process and assembly have a valid patent of Kazakhstan, Russia and China. The object is patented in India, Mexico, Chile, Brazil and Bolivia.
Partners:
The Italian company «Forney Engineering» is designer of KIVCET-units.
Chanshan Design Institute of Nonferrous Metals, China is the general designer of lead production with using of KIVCET-technology.
Contacts:
SSE «VNIItsvetmet» RSE «NC CPMRM RK»
070002, Ust-Kamenogorsk, 1, Promyshlennaya str.
Тел.: (7232) 753773, 221101
Факс: (7232) 753771, 753773
E-mail: This e-mail address is being protected from spambots. You need JavaScript enabled to view it