Thermal processing of rice husk
Short description:
Rice processing waste - rice husk- is 20-30% by weight of rice (150-200 million tons per year -in the world, more than 70 tons per year - in Kazakhstan).
Complex rice husk processing technology has been developed and recognized as the best invention in 2007 following the results of the Republican contest «Shapagat».
Pilot set to process 300 kg/day of rice husk have been created, the obtained products (silicon-carbon (CC), organic product (OP)) were tested in various industries.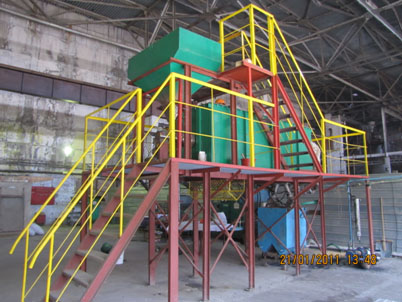 Pilot set to process of rice husk
The use of silicon-carbon as a filler in the manufacture of rubber instead of the traditional carbon black, and white soot contributes to improving the processing characteristics of rubber compounds and vulcanizates prepared: growth elasticity (10-12%), improve adhesion and enhance the strength properties (10-15%). With the addition of silicon-carbon into carbon anti-friction products it improves their properties, in particular, almost an order of magnitude reduces gas permeability and increases the service life in hostile environments.
The introduction of silicon-carbon in the feed ration of poultry has a positive effect on its safety and productivity: the increase of live weight increased by 25-38%, egg production by 12-15%, the cost of feed per unit gain is reduced by 25-29%.
Application of 0,5% organic product solution as a stimulator of plant growth provides higher yields of green mass of alfalfa - by 22,4%, barley - 26,3%, corn - by 28,6%.
50% solution of the organic product is effective as a disinfectant against tuberculosis cells.
Currently is being tested in the output of the high-purity silicon from silica-carbon composite.
Level of readiness:
The developed technology is ready for industrial implementation. Capital expenditures for the establishment of industrial production (which has no analogues in world practice) will make $2.5 million. The industrial modular set with capacity 1200 tons of CC and 900 tons of OP per year will provide income from sales of about $2 million per year. Profitability of production -124%.
Availability of patents:
Technology for processing of rice husk and the use of products in these sectors of the economy are protected by patents of RK.
Partners:
JSC «NAC «Kazatomprom».
Contacts:
RSE «NC CPMRM RK»
050036, Almaty, 67, Zhandosov str.
Tel.: (727) 2590073
Fax: (727) 2590075
E-mail: This e-mail address is being protected from spambots. You need JavaScript enabled to view it