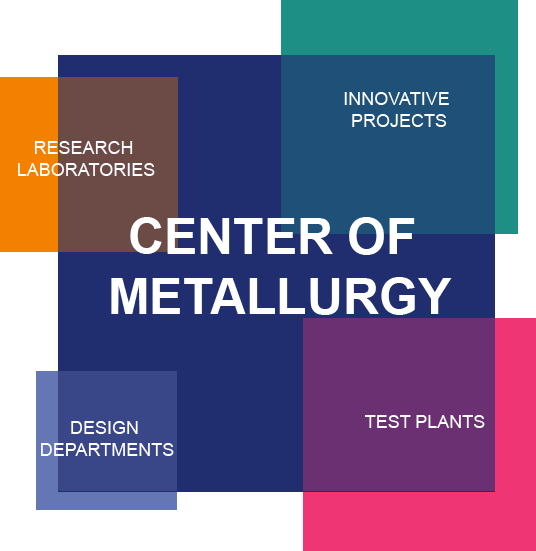 Creation goal:
Formation of pilot testing center for improving the technologies for mining and metallurgical industry, testing, processing and commercialization of scientific and technical developments, product certification
In the structure of Center of Metallurgy:
Experimental-industrial area for coal and carbonaceous materials processing.
Experimental-industrial area for formation of bulk materials and compact products.
Experimental-industrial modular concentration plant.
Experimental-industrial area for pyrometallurgical processes.
Prospects for industry:
Diversification and modernization of steel plants to expand the range of products;
Development of innovative industries and enterprises for the development of large, medium and small fields and anthropogenic formations;
Reconstruction and further development of refractory, rare and rare-earth metals and complex alloys, ceramics and rolled products production;
Improvement and optimization of new processes and the subsequent design of industrial production with the development of feasibility studies for the projects;
Demonstration of new technologies and equipment at the conclusion of license contracts;
Representative platform for technological testing of minerals obtaining high-grade data for mineralogical mapping technology;
Examination of technological development and evaluation of the technical state of production and their compliance with current environmental regulations and trends;
Transfer and adaptation of special coke production technology with improved environmental characteristics, using local and easily accessible coal of small classes;
Development of energy-saving technologies to create sustainable alternative fuels and reducing carbon of the new generation;
Development and implementation of new moldings pilot-scale production from bulk materials;
The issue of pilot batches of new products with high added value for the next series of tests.
Prospects for Science:
Scientific development of production technologies for the new types of products for mining and metallurgical and fuel-energy complexes;
Development of the initial data, technical regulations;
Participation in the designing of experimental, pilot and industrial plants;
Author's support to projects, starting-up and adjustment operations on the developed technologies;
Creation of conditions for the development of innovation and business venture.